I committed to a huge chunk of work for the Beach House Inspiration post, but I'm proud of the results and the house feels lighter.
I started with Task 2, which was the hardest: reduce quantities of *select items in specific storage spaces: *linen closet for towels and extra bedding, kitchen counter "stuff" that isn't for food preparation, and mud room for extra shoes, boots, and flip flops.
Main focuses: kitchen counter catch-all (frustrating on a daily basis) and the great room (piles/bins of projects).
Lesson learned: keeping my in-progress projects visible did not yield motivation or inspiration.  Instead they made me feel overwhelmed and frustrated.
Before – kitchen counter – the worst place for a drop-zone.
After – a placemat increases discipline to keep the space clear for eating or working at the counter.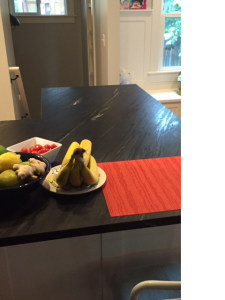 After – the tray that enabled a drop-zone and served as a dangerous catch-all had to go.
Task 2 nicely merged with Task 4: move incomplete projects to a master list, then to a plastic bin, and store properly.
Before I started anything, I walked around the house noting things that needed to be done.  We use Evernote as our master list, so I added them there.
Lessons learned:

sometimes my master list is overwhelming.  To gain traction, I'll select 2 or 3 items from the master list, break them down into smaller steps, and get them into my calendar.  (Project management 101).
I should have only 1 project out and in progress at a time (whenever possible) to increase productivity and decrease visual clutter.
Before – piles, photo organizing project.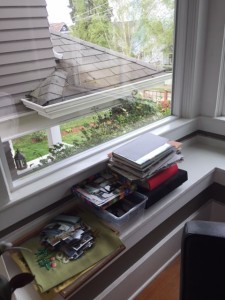 Before – piles and a bin.
After – Removing projects in-progress reveals a peaceful and sunny window seat.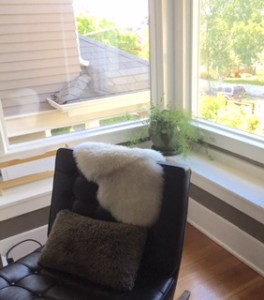 Before – Piles on top of bins, framed photos, kids artwork, and mystery items.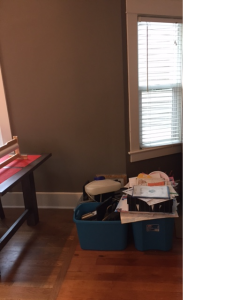 During – most of a day spent planning the arrangement, spacing, and hanging.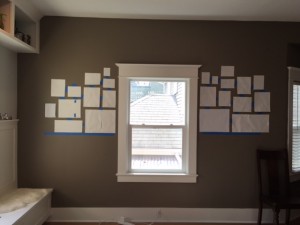 After–ish – still in progress but 2 large bins of frames hung up and cleared out.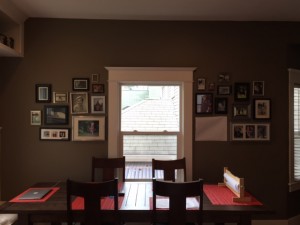 After – only 1 bin remains visible which are the photos needed to complete the wall collage.
Task 3 was the most fun: place charming baskets or pails outside each entryway for kids to store their "treasures," muddy boots, sandy crocs, and wet umbrellas. Squeeze in a potted plant that can survive the traffic level.
Lessons learned:

having a vision makes the work easier.  I felt motivated to do what felt like drudgery: clearing out dead leaves, cleaning up dirty beach toys, moving shoes (again).
a vision kept me focused.  I didn't get overwhelmed by the sides of the house that also need attention but were not part of this project.
Before – front door with an empty flower pot and a lonely tulip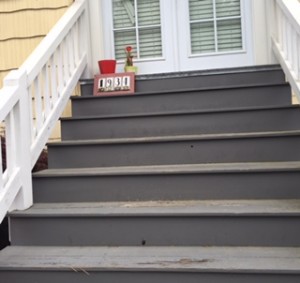 After – front door (close-up) softened with palm-grass and warmed up with red pots full of seedlings that will burst with color in a few weeks.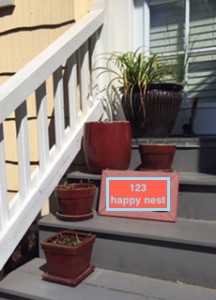 Before – back entry off the deck, originally built for relaxing, now a high-traffic drop zone, narrowed by bags and shoes.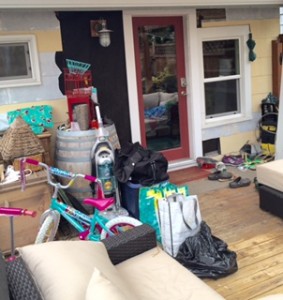 After – back entry (close-up) after removing clutter and added flower pots.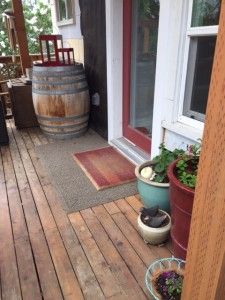 After – back entry with less stuff feels great, even with the Cinderella kite watching us.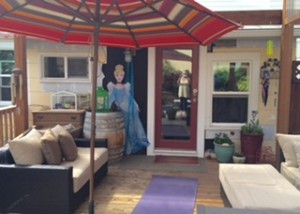 Task 1: create a space meant for one solitary purpose: do nothing but relax and unwind here.
I assumed that my office/craft room would be the space for relaxing and unwinding since it's the one space that is all mine. But something surprising happened!  My kids opened up the storage box where we keep seasonal shoes and other items that get shoved there. I thought they were going to take out all the rain boots, garden clogs, and crocs, but they found my yoga matt and unrolled it on the deck.  And just like that, my space meant for relaxing and unwinding was complete.  
Lessons learned: you might end up somewhere unexpected, but it's where you were meant to be; sometimes your kids know better than you do!